With so many products on the market, it's often difficult to figure out which product would be the most effective?, right?
Well I'm going to let you know what products I have personally used on my clients that have the best results. It's so easy as a consumer to get bamboozled into spending hundreds, even thousands of dollars a year on hair products.
I have been the victim of buying the latest hair products, some work and some didn't. It's really about finding the product that works for your hair type. It's usually trial and error. I tend to buy my products from the professional beauty supply stores so that I can return them if it doesn't do what it says. It also guarantees that it's fresh, sometimes in regular stores (i.e, Target, Cvs, Walmart, etc...) the products sit on the shelf longer than they should. In professional supply stores the products have an expiration date, that way consumers and professionals are guaranteed a good product.
Tress tip
: Most of the time the products that are carried at your local store (Walmart, Target, Cvs, etc....) are old product that the Professional supply store won't carry because it's been on shelves to long. It doesn't always mean that it's not useful, but the professional supply stores are strict about the shelf-life of products.
It's important to keep in mind that there is no product out there that can protect your hair from getting caught in a thunderstorm, running a full marathon, or reversion in 100+ degree temperatures. Hair will revert in those conditions. These "humidity resistant" or "anti-frizz" products will aid in creating a layer between your hair and some environmental elements.
Here are a list of my top ten humidity resistant products:
1) Paul Mitchell Super Skinny serum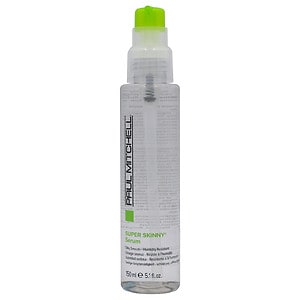 2) Moroccan oil
3) Kerastase' Nutritive oleo-relax serum
4) Paul Mitchell "Hold Me Tight" finishing spray
5) Paul Mitchell Awapuhi wild ginger Hydrocream whip (Awesome for blowouts)
6) Stay 'n' shape lemongrass shaping spray (A stronger hold, I like this one for up-do's and more structured styles)
7) "Its a 10" Leave-in spray
8) Design Essential HCO leave-in (Awesome for manageability and leaves a great sheen) (Use before blow-drying)
9) Tigi Bedhead Wax stick (Great as an edge tamer or for up-do's)
10) Frederic Fekkai Pre-style Thermal/UV Protectant (It's a heat activated protectant, its awesome.)